When I Grow Up
Required:
What if your child could gaze into a crystal ball and tell you what other children in the family, the neighborhood, or at school are going to be doing in 15 years?
True, a crystal ball is hard to come by these days. But your child has all the imagination he or she needs to gaze into the future unaided. Challenge your son or daughter to choose a sibling, cousin, friend, or classmate and create a biography—probable or silly—for that person as a grown-up. You can ask such questions as these. Where will the person live? What will he or she do for a living? Will he or she have children? What will their names be?
Then ask your child to describe what it would be like to spend a day with the person as a grown-up. How will your child's favorite games with the sibling, cousin, or friend, such as hide-and-go-seek, dress-up, or building with Legos translate into grownup fun? Who knows? Maybe your Lego-builder friend will one day design the greatest buildings on earth!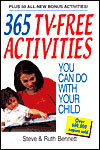 From 365 TV-Free Activities You Can Do With Your Child Copyright © 2007, F+W Publications, Inc. Used by permission of Adams Media, and F+W Publications Company. All rights reserved.
To order this book go to amazon.