Paper Plate Easter Bunny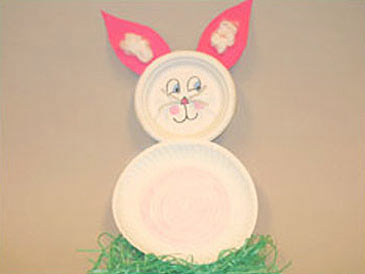 Materials:
Large paper plate
Small paper plate
Glue
Stapler (optional)
Pink construction paper
Scissors
Crayons or markers
Cotton ball
Directions:
Glue a small paper plate to a large paper plate to form the head and body of a bunny.
Cut out bunny ears from pink construction paper and glue or staple to the head.
Draw the bunny face with crayons or markers, and glue a cotton ball on the back for a tail.

Copyright © 1998 by Patricia Kuffner. Excerpted from The Preschooler's Busy Book with permission of its publisher, Meadowbrook Press.
To order this book visit Meadowbrook Press.