Tissue Paper Eggs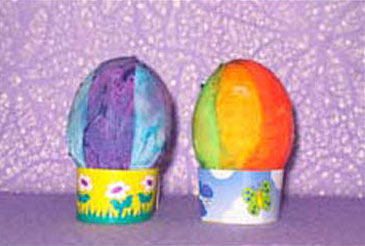 Materials
Colored tissue paper
White craft glue
Hard-boiled eggs
Clear acrylic spray (optional)
Directions
Tear colored tissue paper into small pieces.
Dilute white craft glue with a few drops of water.
Have your child spread glue on the hard-boiled egg with his fingers.
After he has washed his hands, show him how to gently press pieces of tissue paper onto the egg.
Cover with a light coating of glue or spray with clear acrylic spray.

Copyright © 1999 by Patricia Kuffner. Excerpted from The Toddler's Busy Book with permission of its publisher, Meadowbrook Press.
To order this book visit Meadowbrook Press.