Tissue Paper Flowers
Let your Easter spirit bloom. Make these colorful and majestic flowers to herald the arrival of spring. These flowers, placed in a stained glass bottle, make a colorful Easter centerpiece and are the perfect gift to bring a harried hostess.
Gifting Glitches
When making a stained glass vase out of a bottle, glue, and tissue paper, be sure to only paint a small area of the vase at a time and add strips of paper as you go along. Also, don't make the glue so runny that it drips off the bottle and is too messy to work with. If you get glue on your fingers, wash them to keep the paper from sticking to your fingers instead of the bottle. If you'd like to create a stained glass effect without the mess of glue and paper, you can buy stained glass paint at a craft store and paint areas of color onto the wine bottle.
Time frame: Two to three hours plus overnight to dry
Level: Moderately easy
What you need: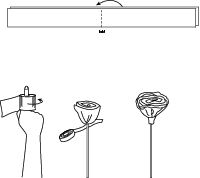 Pastel-colored tissue paper (several different colors)
Wire stems
Green florist tape
Glass water or wine bottle
White glue
Paintbrushes
Varnish
Bow
Gift tag
Place one piece of tissue paper on top of a second piece. You can use the same color or two different colors for a layered effect.
Cut the tissue paper into 3 x 20-inch strips. Fold the strips in half so that each strip is 3 x 10 inches with four layers of paper.
Start at the fold and wind the paper strip loosely around your finger.
Pinch the ends together at the bottom and fluff up the tissue layers. You should have a flower that resembles a rose.
Use one tissue paper flower as a rosebud, or put three or four flowers together to form a carnation.
Place a wire stem in the center of the bottom of the flower. Wrap the pinched ends of the flower and the wire stem with florist tape. Repeat these steps until you have the desired number of flowers.
To make the matching vase: Soak the label off an empty wine or water bottle. Make a mixture of 1⁄4 cup of white glue and two tablespoons of water.
Paint the glue mixture onto the bottle one small area at a time. Cut or tear strips of tissue paper and press them onto the glue, creating a stained glass effect. Repeat until all the areas of the bottle are covered with glue and tissue paper. Allow the bottle to dry.
Paint the bottle with a layer of varnish and allow it to dry overnight.
Place your flowers in the vase and attach a homemade gift tag and bow.

Excerpted from The Complete Idiot's Guide to Making Great Gifts © 2001 by Marilee LeBon. All rights reserved including the right of reproduction in whole or in part in any form. Used by arrangement with Alpha Books, a member of Penguin Group (USA) Inc.
To order this book visit Amazon's web site or call 1-800-253-6476.