Easter Recipes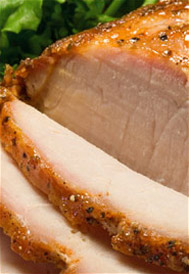 Easter Dinner
Lemon-Pepper Asparagus Spears
Lemon enhances the flavor of asparagus, and parmesan cheese adds lots of interest.
Baked Maple-Glazed Carrots
Maple syrup is a superb way to bring a special sweetness to hearty carrots.
Green Bean Salad with Walnuts and Goat Cheese
Green beans, walnuts, and goat cheese produce a delicate and special salad that's just right for a holiday meal.
Pork Tenderloins with Apple-Raisin Stuffing
This Easter entree pairs a sweet apple, raisin, and rosemary stuffing with pork tenderloins basted with Dijon sauce.
Glazed Country Ham
Baking a ham can be a time-consuming undertaking, but with this easy recipe, the sweet and tangy flavors of a true country ham can be yours in a snap!