Stretches for Flexibility
Spinal Twist
The spinal twist is great for limbering the muscles that align your spinal column. It also stretches the buttocks and hips. Here's how to do it:
Sit with your left leg straight on the floor.
Place your right foot flat on the floor over your outstretched left leg, and rest it to the outside of your left knee.
Place your left elbow on the outside of your upper right thigh just above the knee.
With your right hand resting behind you, slowly turn your head and look over your right shoulder. At the same time, rotate your upper body toward your right hand and arm.
During the stretch, use the left elbow to keep your right leg stationary with controlled pressure to the inside. As you turn your upper body, think of turning your hips in the same direction without lifting your hips off the floor. You should feel a stretch in your lower back and side of hip.
Hold for 20-30 seconds.
Breathe deeply. Repeat on the opposite side.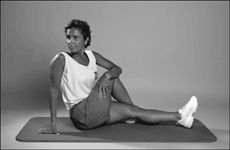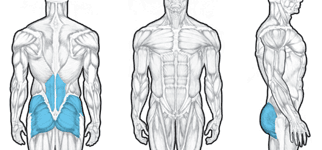 Groin Stretch
Tight groin muscles are a common source of strains in sports with sudden stops, starts, and turns. The groin is defined as the depression between the thigh and the trunk and consists primarily of tendons from your adductor muscles.
Here is what you need to do to stretch your groin muscles:
Sit with your spine straight.
Put the soles of your feet together and grab your toes.
Bending from the hips, gently pull yourself forward until you feel a good stretch in your groin. Do not make the initial movement for the stretch from the head and shoulders; move from the hips. You may also feel a stretch in your lower back.
Hold for 20-30 seconds.

Excerpted from he Complete Idiot's Guide to Weight Training © 2003 by Deidre Johnson-Cane and Jonathan Cane. All rights reserved including the right of reproduction in whole or in part in any form. Used by arrangement with Alpha Books, a member of Penguin Group (USA) Inc.
To order this book visit the Idiot's Guide website or call 1-800-253-6476.