Kitchen Shapes
Required:
Are your kitchen cupboards and drawers filled with all sorts of foods and dishes? Look again—everything you see has been reduced to its simplest shape, and just in time for a game of kitchen geometry.
Call out a shape, such as circles, and see how many items of that shape your child can find in your kitchen. For example, your child might spy plates, cookies, jar lids, yogurt tops, and the like. Or, as a variation, you and your child can take turns calling our kitchen objects that fit the bill, and see who can add the most items to the list.
For an even greater challenge, your child can look for kitchen objects that contain two or more of whatever shape you call out. For instance, if you say "squares," your child can choose a kitchen tile only if each tile is divided into two or more squares (of course, your child can say "the whole floor" if it's made up of squares).
Finally, how about seeing whether you can get your whole kitchen into tip-top shape!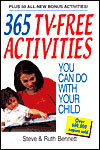 From 365 TV-Free Activities You Can Do With Your Child Copyright © 2007, F+W Publications, Inc. Used by permission of Adams Media, and F+W Publications Company. All rights reserved.
To order this book go to amazon.