Handy Puppets
Soar away with their imaginations by creating this bluebird of happiness for your favorite preschoolers. This puppet is easy to make and stands up to hours of playtime.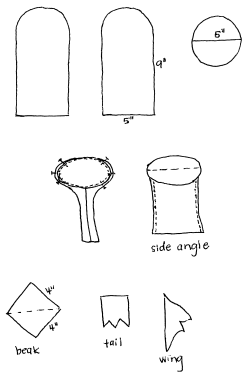 Time frame: One to two hours plus overnight to dry
Level: Moderately easy
What you need:
Scissors
Two pieces of blue felt
Pins
Sewing machine
Blue thread
One piece of white felt
One piece of yellow felt
Fabric glue
Fabric paint
Cut a piece of blue felt in half. Put the two pieces together and round off the top to form the mouth (see illustration).
Cut a circle out of another piece of blue felt that is five inches in diameter. Pin the circle to the rounded ends of the body of the bird as shown. Sew a 1⁄2-inch seam around the mouth, being careful not to sew through the body of the bird. Trim the seam and cut slits on the bias (material outside the seam) to keep the seam from puckering.
Close the mouth and sew the two side seams up to the already sewn mouth. Reinforce the seams on the ends by reversing over them a couple times so your puppet stays together.
Turn the puppet right side out. Cut a four-inch square out of the yellow felt to make the beak. Glue the beak onto the mouth so that a small triangle of beak sticks out of the middle of the mouth (see illustration).
To make the wings, cut two triangles out of the white felt that are 6 x 6 x 4 inches. Notch the one six-inch end of the wing as shown. Glue the wings onto the back side of the puppet.
Cut two rectangles out of the white felt that are two x four inches. Notch one of each of the two-inch sides as shown to form a tail. Glue the tails onto the ends of each side of the puppet.
Decorate your puppet with fabric paint. Paint two eyes on the top of the face of the puppet as shown. Allow the puppet to dry overnight.

Excerpted from The Complete Idiot's Guide to Making Great Gifts © 2001 by Marilee LeBon. All rights reserved including the right of reproduction in whole or in part in any form. Used by arrangement with Alpha Books, a member of Penguin Group (USA) Inc.
To order this book visit Amazon's web site or call 1-800-253-6476.