Fortune-Teller
Kids will have fun folding paper into this unique shape and telling the fortunes of their friends and family. They can make this simple fortune-teller, or customize it to fit their tastes by adding decals, stamps, or drawings on the flaps to illustrate the fortunes.
Time frame: Half hour
Level: Easy
What you need:
Piece of paper
Scissors
Fine-tipped marker
Cut a piece of paper into a nine-inch square.
Fold the paper in half diagonally to form a triangle. Fold in half again, forming a smaller triangle.
Unfold the paper and fold in each of the ends to meet in the center crease, forming a square (see illustration). Flip the paper over and turn in those edges to meet at the center, forming another smaller square.
Lift up the flaps on the other side and place a thumb and finger in each flap to make a moving square form.
With a marker, place the name of a color on each of the four outside squares. Place a number on each of the eight inside triangles.
Write a fortune under the flap of each inside triangle.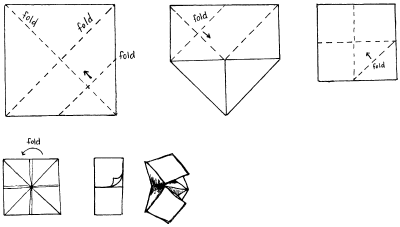 Here's how to tell a fortune: Ask a person to pick a color from the four outside flaps. Open and close the paper spel­ling out the color. For example, open once for R, close for E, and open again for D. Have the person pick a number from inside and open and close again that number of times. Have them pick a number again and open up the triangle with the fortune written inside.

Excerpted from The Complete Idiot's Guide to Making Great Gifts © 2001 by Marilee LeBon. All rights reserved including the right of reproduction in whole or in part in any form. Used by arrangement with Alpha Books, a member of Penguin Group (USA) Inc.
To order this book visit Amazon's web site or call 1-800-253-6476.