Baadasssss!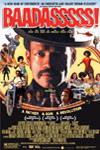 | | |
| --- | --- |
| Rating: | R (for pervasive language and some strong sexuality/nudity) |
| Genre: | Drama |
| Release Date: | May 28, 2004 |
| Running time: | 108 minutes |
| Cast: | Mario Van Peebles, Joy Bryant, T.K. Carter, Terry Crews, Ossie Davis |
| Director: | Mario Van Peebles |
| Producer: | Mario Van Peebles, Bruce Giles |
| Writer: | Mario Van Peebles, Melvin Van Peebles |
| Distributor: | Sony Pictures Classics |
Web Site: http://www.sonyclassics.com/badass/
Description: Melvin Van Peebles stunned the world for the first time, with his debut feature, "The Story of a Three Day Pass." Filmed in France and selected as the French entry in the San Francisco Film Festival, Melvin's film was awarded the top prize. Saying it was controversial would be an understatement. In 1968 for a black man to walk up to the podium and accept the top festival award for a film he had to go abroad to make--now that's how you make your mark. After his comedy, "Watermelon Man," Melvin was determined to push the Hollywood boundaries with the groundbreaking, and even more controversial, "Sweet Sweetback's Baadasssss Song." Turned down by every major studio including Columbia, where he had a three-picture deal, Melvin was forced to basically self-finance. Risking everything he had Melvin delivered to the world the first Black Ghetto hero on the big screen--whether they were ready or not! More than 30 years later, history is being fashioned again in the telling of this very tale. Mario Van Peebles, Melvin's son, directs an honest and revealing portrait of his pioneering father. Mario now tells the story of the making of Melvin Van Peebles' landmark 1971 film, "Sweet Sweetback's Baadasssss Song," including Melvin's struggles to raise money to fund the film under the guise of creating a black porno film. Melvin had ducked creditors, the unions and had to bail out his camera crew after they were arrested because a white cop decided "a bunch of Negroes and hippies couldn't have come by that camera equipment honestly." Despite death threats and temporarily losing sight in one eye, Melvin somehow managed to whip into shape a rag-tag, multi-racial crew and finish the film that would give birth to birth of a new era which was about to explode: Independent Black Cinema.
Movie summaries and listings powered by Cinema-Source