Bad Milo!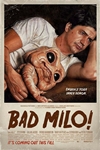 | | |
| --- | --- |
| Rating: | R (for bloody comic horror violence, and for language and some sexual content) |
| Genre: | Comedy, Horror |
| Release Date: | October 4, 2013 |
| Running time: | 85 minutes |
| Cast: | Ken Marino, Gillian Jacobs, Patrick Warburton, Mary Kay Place, Stephen Root |
| Director: | Jacob Vaughn |
| Distributor: | Magnolia Pictures |
Web Site: http://www.magnetreleasing.com/badmilo/
Description: Duncan's life is a real pain in the ass. Tormented by a manipulative, crooked boss, a nagging mother, a deadbeat new age dad, and a sweet, yet pressuring, wife, his mounting stress starts to trigger an insufferable gastrointestinal reaction. Out of ideas and at the end of his rope, Duncan seeks the help of a hypnotherapist, who helps him discover the root of his unusual stomach pain: a pintsized demon living in his intestine that, triggered by excessive anxiety, forces its way out and slaughters the people who have angered him. Out of fear that his intestinal gremlin may target its wrath on the wrong person, Duncan attempts to befriend it, naming it Milo and indulging it to keep its seemingly insatiable appetite at bay.
Movie summaries and listings powered by Cinema-Source