Cha Cha Cha!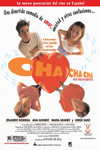 | | |
| --- | --- |
| Rating: | No Rating |
| Genre: | Comedy, Drama, Romance |
| Release Date: | February 22, 2002 |
| Running time: | 109 minutes |
| Cast: | Jorge Sanz, Eduardo Noriega, Ana Alvarez, Maria Adanes, Gabino Diego |
| Director: | Antonio Del Real |
| Producer: | Cesar Benitez |
| Writer: | Antonio Del Real, Fernando Leon, Carlos Asorey Brey |
| Distributor: | Venevision International |
Description: "Cha-Cha-Cha" is the story of Lucia and Maria, two very young and pretty friends that have known each other since little girls and now share everything - well, everything except Pablo. Pablo is Maria's boyfriend and also young and good looking, so much that Lucia is secretly in love with him, too. Lucia hires a professional model to seduce Maria so that she breaks up with Pablo, which would leave the young man for her to be happy with. This creates funny situations between the two couples that lead to an unexpected ending. Cha-Cha-Cha is the perfect movie for a date with its popular Latin dances such as Salsa, which is nowadays very popular with the young crowd.
Movie summaries and listings powered by Cinema-Source