Dinosaurs Alive!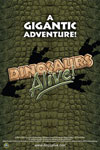 | | |
| --- | --- |
| Rating: | No Rating |
| Genre: | Documentary, Action/Adventure |
| Release Date: | March 30, 2007 |
| Running time: | 40 minutes |
| Cast: | Michael Douglas, Roy Chapman Andrews, Mike Novacek, Mark Norell |
| Director: | David Clark, Bayley Silleck |
| Producer: | David Clark |
| Writer: | David Clark, Bayley Silleck |
| Distributor: | Giant Screen Films |
Web Site: http://www.dinosalive.com/
Description: "Dinosaurs Alive" is a global adventure of science and discovery--featuring the earliest dinosaurs of the Triassic Period to the monsters of the Cretaceous "reincarnated" life-sized for the giant IMAX ® screen. Audiences will journey with some of the world's preeminent paleontologists as they uncover evidence that the descendents of dinosaurs still walk (or fly) among us. From the exotic, trackless expanses and sand dunes of Mongolia's Gobi Desert to the dramatic sandstone buttes of New Mexico, the film will follow American Museum of Natural History paleontologists as they explore some of the greatest dinosaur finds in history. Through the magic of scientifically accurate computer-generated animation, these newly discovered creatures, and some familiar favorites, will come alive... in a big way!
Movie summaries and listings powered by Cinema-Source