Divorce Corp.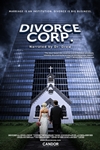 | | |
| --- | --- |
| Rating: | No Rating |
| Genre: | Documentary |
| Release Date: | January 10, 2014 |
| Running time: | 93 minutes |
| Cast: | Dr. Drew Pinsky |
| Director: | Joe Sorge |
| Producer: | James Scurlock, Philip Sternberg |
| Writer: | Joe Sorge, James Scurlock, Philip Sternberg, Blake Harjes |
| Distributor: | Candor Entertainment |
Web Site: http://www.divorcecorp.com
Description: Divorce Corp is a new documentary that exposes the practices within the U.S. family law industry. More money and people flow through the family courts than any other court system in America. But because of good intentions run amok, misplaced finances, cronyism, and lacking checks and balances, family courts are corrupted, serving the local legal community instead of the people. Rather than help victims of crimes, these courts often create them. And rather than help families move on, these courts drag out cases for years, ultimately resulting in a rash of social ills. Solutions appear in Scandinavian countries where marriage dissolution is handled without attorneys, courts, or the turbulence and family disintegration so common in the United States.
Movie summaries and listings powered by Cinema-Source