Enlighten Up!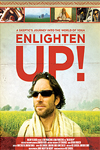 | | |
| --- | --- |
| Rating: | No Rating |
| Genre: | Documentary |
| Release Date: | April 1, 2009 |
| Running time: | 82 minutes |
| Cast: | Norman Allen, Alan Finger, Sharon Gannon, B.K.S. Iyengar, Sri K. Pattabhi Jois |
| Director: | Kate Churchill, Jeanne Hagerty, Tom Hagerty. |
| Producer: | Kate Churchill |
| Writer: | Kate Churchill, Jonathon Hexner, Khari Streeter |
| Distributor: | Balcony Releasing |
Web Site: http://enlightenupthefilm.com/
Description: Intrigued by the opportunity to peek behind the curtain of a 5.7 billion dollar "spiritual" industry, Nick signs on to investigate yoga for six months. Before he can say OM, he finds himself twisted up like a pretzel, surrounded by celebrity yogis, true believers, kooks, entrepreneurs and a gentle teacher from Brazil who leads his class with his feet behind his head. The more Nick investigates yoga the more contradictions he discovers, leading him to question whether yoga is anything more than a workout. As Nick searches for concrete facts and discards the lofty spiritual theories of his yoga teachers, he strays further from Kate's original plan. The two find themselves lost in Northern India, embroiled in a struggle between Kate's expectations and Nick's overt rejection of "spirituality." They circle the globe talking to mystics, gurus, mad men and saints searching for the true meaning of yoga. Ultimately, both Nick and Kate end up in places they never could have imagined. They don't find the answers to their questions, they find much more.
Movie summaries and listings powered by Cinema-Source