Hastey Hastey Follow Your Heart!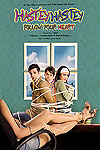 | | |
| --- | --- |
| Rating: | No Rating |
| Genre: | Comedy |
| Release Date: | May 30, 2008 |
| Running time: | 120 minutes |
| Cast: | Jimmy Shergill, Rajpal Yadav, Shakti Kapoor, Nisha Rawal, Sarah Therese Thomas |
| Director: | Ramanjit Juneja |
| Producer: | Ashutosh Bajpay, Shivaram Kumar |
| Writer: | Gabinder Agarwal, Bolu Khan, Ritesh Pandey |
| Distributor: | Go Cam Films |
Web Site: http://www.hasteyhastey.com/
Description: Neel, a brilliant student at Columbia University, and the pretty Maya, the love of his life, are on the verge of starting a new life together in New York. Sunny Malhotra is Neel's roommate, teammate and conscience. Academically challenged and a compulsive flirt, he gets involved in a series of hilarious situations with his American love Tina. Just when life seems perfect, Neel accepts a career opportunity that requires him to go to India to set up a call centre business. Much against Maya's wishes, Neel travels to India with Sunny. Tanvi is a young executive who goes out of her way to help Neel and his team in India. Attractive and aggressive, she is instantly attracted to Neel and tries her best to win his heart. Neel being deeply in love with Maya rejects Tanvi. Now seeking revenge, Tanvi creates a trap which leads Neel in to deep trouble professionally and personally.
Movie summaries and listings powered by Cinema-Source