Life. Support. Music.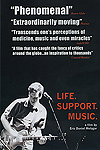 | | |
| --- | --- |
| Rating: | No Rating |
| Genre: | Documentary |
| Release Date: | February 6, 2009 |
| Running time: | 79 minutes |
| Cast: | Monica Crigler, Norah Jones, Marshall Crenshaw, Teddy Thompson, Jason Crigler |
| Director: | Eric Metzgar |
| Producer: | Eric Metzgar |
| Writer: | Eric Metzgar |
| Distributor: | Merigold Moving Pictures |
Web Site: http://www.lifesupportmusic.org/
Description: On Aug. 4, 2004, Jason Crigler, one of New York City's most sought-after guitarists, suffered a brain hemorrhage during a concert in Manhattan. He was rushed to the hospital where doctors told Jason's family--if he makes it through the night, there won't be much left of him. But, Jason's pregnant wife and the rest of his family refused to accept the dire prognosis. Convinced that beneath his unresponsive eyes Jason was "in there," his family mounted an intensive and intimate course of rehabilitation that would eventually force Jason's doctors--who were sure that he would live out his days in a nursing home--to reconsider the factors and forces that inspire recovery. "Life. Support. Music." chronicles Jason's powerful and unusual story, explores the nature of hope, faith and healing, and proves that "family" may be the strongest material in the universe.
Movie summaries and listings powered by Cinema-Source