Opa!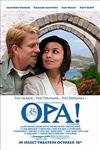 | | |
| --- | --- |
| Rating: | PG-13 (for some nudity and brief strong language) |
| Genre: | Comedy |
| Release Date: | October 16, 2009 |
| Running time: | 100 minutes |
| Cast: | Matthew Modine, Richard Griffiths, Agni Scott, Alki David, Panayota Aravantzi |
| Director: | Udayan Prasad |
| Producer: | Jeffrey Bloom, Thierry Cagianut, Elliott Kastner, George Pappas |
| Writer: | Christina Concetta, Raman Singh |
| Distributor: | Cinedigm |
Web Site: http://www.opathefilm.com/
Description: On the magical Greek island of Patmos, the inhabitants have lived, danced, and laughed for thousands of years. But, with the arrival of a straight-laced, high-tech archaeologist, Eric everything could forever change. Eric finds himself swept into a world of picture-postcard scenery and romance. That is, until his satellite-guided equipment reveals that his most important find may be buried under the taverna owned by the object of his affection -- the beautiful and uncompromising Katerina. Will Eric toss away a lifetime of work -- and the hope of fulfilling his father's deepest wish -- for the love of a vivacious and independent woman? It will take her passion and his courage to find out where the real treasure is buried.
Movie summaries and listings powered by Cinema-Source