Oye Lucky! Lucky Oye!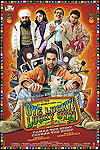 | | |
| --- | --- |
| Rating: | No Rating |
| Genre: | Comedy |
| Release Date: | November 26, 2008 |
| Running time: | 126 minutes |
| Cast: | Abhay Deol, Paresh Rawal, Neetu Chandra, Archana Puran Singh, Manu Rishi |
| Director: | Dibakar Bannerjee |
| Producer: | Ronnie Screwvala |
| Writer: | Dibakar Banerjee, Urmi Juvekar |
| Distributor: | UTV Communications |
Web Site: http://www.utvmotionpictures.com/
Description: Lucky Singh was an extremely charismatic and fearless thief who socialized with the rich, famous and influential of Delhi society and then proceeded to rob them blind. He was the bête noire of the police and had stolen millions by the time he was caught. A modern day Robin Hood with a twist, he robbed both the rich and the poor without prejudice. Nothing was too big nor was anything too insignificant to escape his attention. The film opens with his trial and charts his rise from the projects of crime ridden suburban Delhi to the very heart of the corridors of power. Along the way he makes lifelong friends, falls in love and manages to outwit the entire law and order machinery. "Oye Lucky! Lucky Oye!" is a parable of an India in flux on the cusp of its economic revolution when traditional values battled with nouveau riche desires.
Movie summaries and listings powered by Cinema-Source