P.S.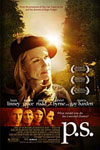 | | |
| --- | --- |
| Rating: | R (for language and sexuality) |
| Genre: | Comedy, Drama, Romance |
| Release Date: | October 15, 2004 |
| Running time: | 97 minutes |
| Cast: | Topher Grace, Laura Linney, Gabriel Byrne, Marcia Gay Harden, Paul Rudd |
| Director: | Dylan Kidd |
| Producer: | John N Hart, Jeff Sharp, Robert Kessel, Anne Chaisson |
| Writer: | Helen Schulman |
| Distributor: | Newmarket Films |
Web Site: http://newmarketfilms.com/filmDetail.cfm?FID=18
Description: Louise Harrington, a divorced, thirty-something admission's office at Columbia University's School of Fine Arts is intelligent, pretty, and successful, yet unfulfilled. That is, until a graduate school application crosses her desk and she arranges to interview the young painter. When Scott Feinstadt appears, he bears an uncanny resemblance to Louise's high school boyfriend and one true love, an artist who died in a car accident twenty years earlier. Within hours of the interview, Louise and Scott have embarked on a passionately uninhibited older woman/younger man affair. But is Scott just a reminder of Louise's lost love? And is Scott just trying to wheedle his way into the Ivy League? Adding to the romantic complications is competition from Louise's best friend from high school, Missy, who shows up to claim the affections of the boy; Louise's co-dependent ex-husband Peter; her cynical mother and fresh-out-of-rehab brother.
Movie summaries and listings powered by Cinema-Source