Sir! No Sir!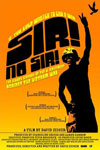 | | |
| --- | --- |
| Rating: | No Rating |
| Genre: | Documentary |
| Release Date: | April 7, 2006 |
| Running time: | 85 minutes |
| Cast: | Troy Garity, narrator, Edward Asner, Jane Fonda |
| Director: | David Zeiger |
| Producer: | David Zeiger, Evangeline Griego, Aaron Zarrow |
| Writer: | David Zeiger |
| Distributor: | Balcony Releasing |
Web Site: http://www.sirnosir.com/
Description: Like the Vietnam War itself, the GI anti-war movement started small and within a few years had exploded into a force that altered history. Like the times from which it grew, the movement involved organized actions and spontaneous resistance, political groups and cultural upheaval. Today, at a time when American troops are again fighting a protracted, questionable war, this military insurgency has been all but eliminated from collective memory. Even though it profoundly impacted American society, it rarely appears in historical accounts. This chronicle features news reports from local and national television broadcasts and archival images from newspapers and magazines. Recently shot interviews with individuals involved in the struggle include: Hollywood actor and activist Jane Fonda; soldiers imprisoned for refusing to fight, train other soldiers or ship out to the frontlines; Vietnam veterans who became anti-war activists or joined the over 500,000 soldiers who the Pentagon listed as deserters during the war; the leader of the Presidio 27 mutiny; and soldiers who went on strike while in Vietnam among others. As well, the film includes never-before-seen Super-8 and 16mm film footage of events in the GI movement shot by GIs and civilian activists.
Movie summaries and listings powered by Cinema-Source