Heart People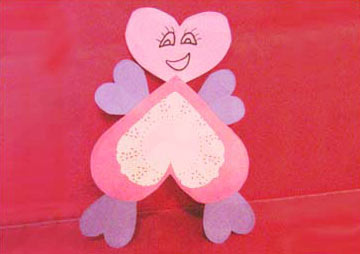 Materials:
Construction paper in different colors
Glue or paste
Doilies
Directions:
Using different colored construction paper, trace and cut hearts, ranging in size from two to six inches.
Glue the hearts together in different combinations to form heart people, using large hearts for heads and bodies, smaller ones for arms, legs, and so on.
Decorate with markers and doilies.
Write a valentine message on it for a special someone.
You can also try making heart animals.

Copyright © 1998 by Patricia Kuffner. Excerpted from The Preschooler's Busy Book with permission of its publisher, Meadowbrook Press.
To order this book visit Meadowbrook Press.