Marbleized Valentine Heart
Your toddler can make a marbleized Valentine's Day card with tempera paints and a small rolling pin.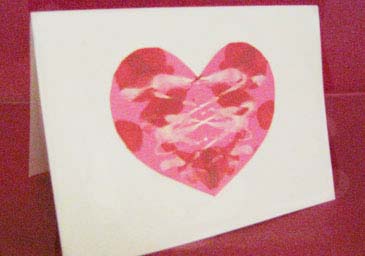 Materials:
Pink construction paper
Scissors
Red and white liquid tempera paint
Spoons
Small rolling pin (optional)
Directions:
Cut out large heart shapes from construction paper; fold in half, then open again.
Have your child use a spoon to dribble red and white liquid tempera paint onto the heart.
Fold the heart up with the paint on the inside; your child can use his hand or a small rolling pin to press on the top of the folded heart.
Open up the heart again to see the designs the paint has made.
You can write on the unpainted side of the heart, or glue it onto another sheet of white or red construction paper to make a pretty Valentine's Day card.

Copyright © 1999 by Patricia Kuffner. Excerpted from The Toddler's Busy Book with permission of its publisher, Meadowbrook Press.
To order this book visit Meadowbrook Press.