Kosovo
Kosovo

President: Atifete Jahjaga (2011)

Prime minister: Isa Mustafa (2014)

Total area: 4,211 sq mi (10,908 sq km)

Population (2014 est.): 1,859,203

Capital and largest city (2007 est.): Pristina, 400,000 (2007 est.)

Other large cities: Prizren, 110,000; Peja, 70,000; Mitrovica, 70,000

Monetary unit: euro (EUR); Serbian Dinar (RSD) is also in circulation

National name: Republic of Kosovo

Languages: Albanian (official), Serbian (official), Bosnian, Turkish, Roma

Ethnicity/race: Albanians 92%, other (Serb, Bosniak, Gorani, Roma, Turk, Ashkali, Egyptian) 8% (2008)

Religion: Muslim, Serbian Orthodox, Roman Catholic

Literacy rate: 91.9% (2007 est.)

Economic summary: GDP/PPP $14.11 billion (2013 est.); per capita: $7,600 (2013 est.). Real growth rate: 2.5%. Inflation: 1.8% (2013 est.). Unemployment: 30.9% (2013 est.). Labor force: 800,000 (2011 est.), agriculture 23.6%. Natural resources: nickel, lead, zinc, magnesium, lignite, kaolin, chrome, bauxite. Exports: $408 million (2013): scrap metals, mining and processed metal products, plastics, wood. Imports: $3.398 billion (2013): petroleum, foodstuffs, machinery and electrical equipment. Major trading partners: Italy, Albania, Macedonia, China, Germany, Switzerland, Turkey, Serbia (2012).

International disputes: Serbia with several other states protest the US and other states' recognition of Kosovo's declaration of its status as a sovereign and independent state in February 2008; ethnic Serbian municipalities along Kosovo's northern border challenge final status of Kosovo-Serbia boundary; several thousand NATO-led Kosovo Force peacekeepers under United Nations Interim Administration Mission in Kosovo authority continue to keep the peace within Kosovo between the ethnic Albanian majority and the Serb minority in Kosovo; Kosovo and Macedonia completed demarcation of their boundary in September 2008.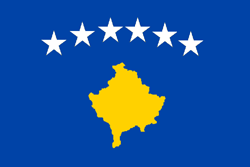 Geography
Kosovo is land-locked and mostly mountainous. It borders Serbia to the north and east, Montenegro to the northwest, Albania to the west, and Macedonia to the south. Kosovo is roughly the size of Connecticut.
Government
Republic. Kosovo, a former territory of Serbia, declared independence in February 2008.
History
The first inhabitants on the Balkan Peninsula were the ancient people known as the Illyrians. The Slavs followed in the 6th and 7th centuries. Albanian speakers began moving into Kosovo from the Adriatic in the 8th century. Kosovo was ruled by Bulgaria from the 9th century until Serbs gained control of Kosovo in the 12th century. Kosovo was the site of the Serbs' defeat by the Ottoman Turks in 1389. Kosovo was then absorbed by the Ottoman Empire. The battle at Kosovo Field figures prominently in Serbian poetry and has great national significance as the cradle of Serbian civilization.
The Ottoman Empire ruled Kosovo for centuries, until 1913, when Serbia resumed control over the region. Under Ottoman rule, the region grew increasingly more populated by Albanian speakers as a large number of Christian Serbs emigrated. (Albanians are largely Muslim.) In 1918, Kosovo became part of the Yugoslav Federation.
Albanians Strive for Independence
Kosovo's Albanians opposed Serbia's attempts to relocate Serbs into Kosovo in the 1920s and 30s. During World War II, Kosovo's Albanians attempted to unite with Albania, but the Yugoslav government thwarted the rebellion. After the war, Kosovo became an autonomous region within Serbia under Josip Broz Tito. In the postwar years, Albanians cultivated their national identity and assumed a more active role in government, with tacit approval from the capital, Belgrade. Albanization of the province coincided with the migration of Serbs. The 1974 Yugoslav Constitution granted Kosovo status nearly equivalent to a republic. By 1981, Albanians accounted for 75% of the population of Kosovo, and 90% by 1991.
Serbia's 1989 constitution significantly limited Kosovo's autonomy. In 1991, Kosovo's Albanian leaders attempted to break free from Serbia using non-violent resistance. The government of Serb president Slobodan Milosevic cracked down on the Albanians' efforts to gain independence. In 1995, Kosovo's ethnic Albanians, frustrated by the lack of progress toward independence under Ibrahim Rugova, formed the separatist Kosovo Liberation Army and started an armed insurgency.
Serb Attack on Civilians Becomes Human Rights Calamity
In Feb. 1998, the Yugoslav army and Serbian police began fighting against the Kosovo Liberation Army, but their scorched-earth tactics were concentrated on ethnic Albanian civilians. More than 900 Kosovars were killed in the fighting, and the hundreds of thousands forced to flee their homes were without adequate food and shelter.
NATO was reluctant to intervene because Kosovo—unlike Bosnia in 1992—was legally a province of Yugoslavia. The proof of civilian massacres finally gave NATO the impetus to intervene for the first time ever in the dealings of a sovereign nation with its own people. NATO's reason for involvement in Kosovo changed from avoiding a wider Balkan war to preventing a human rights catastrophy. On March 24, 1999, NATO began launching air strikes. Weeks of daily bombings destroyed significant Serbian military targets, yet Serb president Milosevic showed no signs of relenting. In fact, Serbian militia stepped up civilian massacres and deportations in Kosovo, and by the end of the conflict, the UN high commissioner for refugees estimated that at least 850,000 people had fled Kosovo. Serbia finally agreed to sign the UN-approved peace agreement with NATO on June 3, ending the 11-week war. NATO peacekeeping forces were deployed to Kosovo, and the UN assumed administration of the province.
On March 17, 2004, Mitrovica, a city in northern Kosovo, experienced the worst ethnic violence in the region since the 1999 war. At least 19 people were killed, another 500 were injured, and about 4,000 Serbs lost their homes. NATO sent in an extra 1,000 troops to restore order.
Kosovo Gains Independence
Negotiations between the European Union, Russia, and the United States on the future of Kosovo ended in stalemate in November 2007. On Feb. 17, 2008, Kosovar prime minister Hashim Thaçi declared independence from Serbia, which, as predicted, denounced the move. Serbian prime minister Vojislav Kostunica said he would never recognize the "false state." International reaction was mixed, with the United States, France, Germany, and Britain indicating that they planned to recognize Kosovo as the world's 195th country. Serbia and Russia, however, called the move a violation of international law.
On March 18, 2008, one United Nation's officer was killed and dozens more wounded when violence broke out in Mitrovica as Serbs tried to overtake a United Nation's courthouse.
On April 3, 2008, at the United Nations war crimes tribunal in The Hague, Ramush Haradinaj and Idriz Balaj, former commanders of the rebel Kosovo Liberation Army, were acquitted of murder, persecution, rape, and torture charges. Former rebel commander, Lahi Brahimaj was found guilty for torture and cruel treatment of prisoners and sentenced to six years in prison. In the court summary, judges said the case was weakened due to intimidation and fear among witnesses. Three of the case witnesses were killed before they could testify. The tribunal ordered another trial for Haradinaj, Balaj, and Brahimaj in July 2010, saying the first was flawed.
In April 2008, Parliament ratified the constitution to protect the rights of Kosovo's minorities, including Serbs. The new document—intended to create a safer environment for all citizens in Kosovo—was adopted on June 15, 2008.
On Oct. 8, 2008, the United Nations voted to request that the International Court of Justice review the manner in which Kosovo declared independence. Serbia, which initiated the request, considers Kosovo a breakaway territory that acted illegally in declaring independence. Most European Union members abstained from voting on the request. The court ruled in July 2010 that Kosovo's declaration of independence did not violate international law. However, the court, did not say that the state of Kosovo is legal. The decision was thus considered a compromise to both sides. The ruling is not binding; it is instead an advisory decision. Sixty-nine countries, including the U.S., have recognized Kosovo as independent.
First Female Elected President
On April 7, 2011, Atifete Jahjaga, a former deputy director of the Kosovo police, became the first woman president of Kosovo. She received 80 votes, with no votes against her, in the parliament session. The 35-year-old also became the youngest president elected and the first non-partisan candidate. Before Jahjaga's election, the presidency went through a period on instability. Fatmir Sejdiu resigned from the presidency on September 27, 2010, leaving Jakup Krasniqi to serve as active president. On February 22 2011, Behgjet Pacolli was elected president by the parliament, but Pacolli left the position less than six weeks later. Jakup Krasniqi was again acting president until Jahjaga was elected.
Jahjaga will serve for one year. At that time, a constitutional reform will allow for a popular vote for the president in 2012. During her inaugural address, Jahjaga stated that her main goal was to secure Kosovo's membership in the United Nations and the European Union. Prime Minister Hashim Thaçi could prove to be a major hurdle in this goal. In December 2010, a two-year international inquiry by the Council of Europe named Thaçi as the boss of the Drenica group, an organized crime network, which was involved in heroin trade, a black market in human organs, and six secret detention centers in Albania. Kosovo denounced the findings and Thaçi denied the allegations. While the Council of Europe is separate from the European Union, the inquiry's findings could influence Kosovo's standing with the European Union and the United Nations.
Unrest along the Border of Kosovo and Serbia
In July 2011, violence erupted along Kosovo's northern border with Serbia. One incident involved 200 Serbs firebombing a customs post on the border. No one was injured in the firebombing, but the situation spurred Serbia to request a session of the United Nations Security Council. Kosovo responded to the ongoing violence by seizing control of the border posts. The government said that it was exercising its right as a sovereign country to take control of its borders, but that stance alarmed NATO and the European Union, both fear that this is a sign of new ethnic unrest in Kosovo.
Kosovo's attempt to control the borders led to more violence. An Albanian policeman from Serbia was killed after a fight broke out between police officers from both sides. The following night, Serbs living near the border fired on troops from Kosovo. On July 29, after two days of violence, NATO and the Serbian government sent reinforcements to the border in an effort to end the violence. Kosovo and Serbia are both seeking membership in NATO and the European Union, but officials from those organizations have said that this ongoing conflict must be resolved before membership talks are resumed.
A milestone agreement to normalize relations was reached between Kosovo and Serbia in April 2013 after several rounds of tense negotiations brokered by the EU's foreign policy chief Catherine Ashton. As part of the deal, Serbia acknowledged that Kosovo's government has control over all of Kosovo, and Kosovo in turn granted autonomy to the Serbian-dominated north. Serbia stopped short of recognizing Kosovo's independence, however.
In December 2014, Democratic League of Kosovo leader Isa Mustafa became prime minister. The hope was that Mustafa, with a PhD in economics, would be able to improve Kosovo's poor economy.
See also Serbia.
Kosovo Factsheet
Kosovo